Our Story
Just a Boy in Front of a Girl...
Asking her to Home Depot?!
Mark and Jeanine met at a bar/restaurant, The Green Flash, on the Pacific Beach boardwalk on July 7th of 2013. Right after Mark's favorite holiday, the Fourth of July! As they told stories and got to know each other, Jeanine was impressed with his love for his family. Mark was intrigued by how shy and reserved she seemed. Not wanting the conversation to end, Mark invited Jeanine to go on an errand to Home Depot with him. Sadly (sarcasm), she had other plans to meet up with her sister and cousin. She couldn't get him out of her head though and was excited when she checked her phone just an hour later and she had a text from Mark; "Did I wait long enough? Haha. You're cute. Let's hang again soon."
Since then, they have fallen for each other. Opposites really do attract! They have a shared love of travel (especially to Mexico), their families, and their pets (dogs, cats, fish, etc.).
Mark has been a Social Studies/English teacher for the San Diego Unified School District for over 20 years and is widely recognized as an engaging and talented educator that is respected by his peers and administration.
Jeanine started on with the school district as well a little over 3 years ago as a Finance Clerk and loves her job. She especially loves the month off she gets to spend with Mark in the summer. One the side, Jeanine resells vintage and antique goods.
They have recently moved to the Bay Ho neighborhood of San Diego and are absolutely loving being closer to the coast!
The Wedding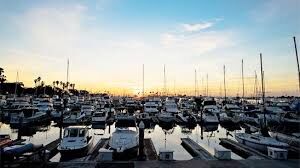 Saturday, July 27, 2019
Ceremony
Marina Village - South Lawn
Reception
Marina Village - Baja Room
1936 Quivira Way, San Diego, CA 92109, USA
The ceremony will begin at 7:00pm on the South Lawn.

There is ample free parking right next to the lawn area.

The reception will be held in the Baja Room to the right of the South Lawn. Dinner will be served shortly after the ceremony. The reception will be 7:30pm to 11:30pm. Please stay for dancing, hosted bar, dessert, and fun!